Prefab favourite
Easier and faster installation, hard-wearing during both transport and use, and designs for the premium segment: manufacturers of prefabricated modular homes have discovered Fibo's waterproof wall systems in earnest.
---
"Replacing tiles with Fibo wall panels increased efficiency across the entire production line", says John Annear at Amoveo.
The Australian company specialises in modular buildings with a production line that transforms a steel frame to a complete modular building in just 12 steps. Switching to Fibo improved efficiency because the company no longer has to wait for the tiles to dry and harden, and they can complete the wet room wall in a single operation.
They have also reduced the need for customisation, since the panels can be hung and can easily be drilled and cut afterwards.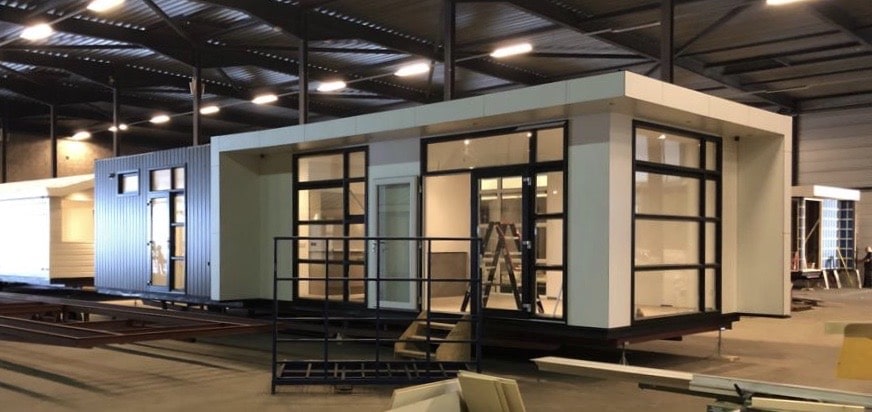 Allan Foster from British company Simply Modular believes that Fibo's wall system more than matches tiles in terms of quality. On a pilot project for Halton Housing in Widnes they built four flats in 16 weeks – precisely in order to demonstrate the benefits of using prefabricated modules.
"Fibo wall panels are in a league of their own in terms of the knowledge and time it takes to fit them. The quality is also there with a wide range of designs," Foster says. Peter Starreweld of De Wit Chalets in the Netherlands agrees.
In the case of De Wit the concrete designs have opened a premium segment which it was previously difficult to sell wall systems to.
"With Fibo wall panels the bathroom is also far less vulnerable during transport. Tiles can come loose or crack," Starreweld says.
Latest news from Fibo
Read about inspiring projects, industry news, product updates, and more from the Fibo newsroom!
See more