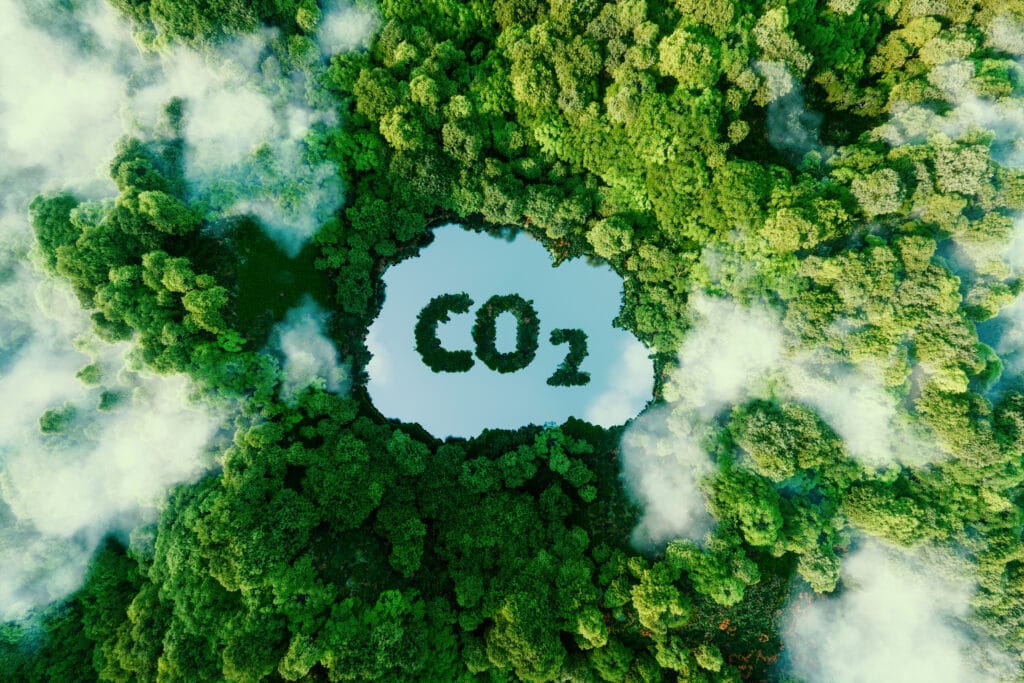 Get a copy of the climate report

A new independent study has revealed that Fibo's leading waterproof wall system has a total carbon footprint that is up to 45% lower compared to tiles.

---
Fibo's waterproof wall panels are not only beautiful but also easy to install, durable, and easy to maintain. They are also a more environmentally friendly choice for bathroom installations, which is becoming increasingly important in terms of sustainability. To demonstrate this, Fibo recently conducted an independent study led by Norwegian consultants from Asplan Viak.
The study examined the climate impact of bathroom walls covered with Fibo's waterproof wall panels and compared them to ceramic tiles. By considering the entire product life cycle and environmental declarations for both options, the study showed the climate impact throughout the value chain for both the panels and tiles. This includes material usage, material transportation, and material treatment when the bathroom is no longer in use.
The study used a typical North-American bathroom with a wall area of 8,6 square meters as a basis. First, the material usage was examined. The total amount of materials needed when using waterproof wall panels was much lower – in fact, 80% less. This is mainly due to Fibo's innovative "Aqualock" feature, which ensures the wall panels are waterproof when correctly installed. In comparison, tiles require an underlying layer of membrane and plasterboards (or other waterproofing solutions), increasing both material usage and weight.
CO2 Emissions of a bathroom built with Fibo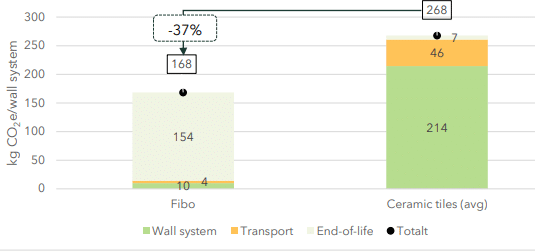 Then, the climate impact was considered from a holistic perspective, including an analysis of the entire product life cycle, which includes emissions at the end of the product's life. Again, Fibo wall panels scored high, with 95% less kg CO2 per installation compared to tiles, assuming the panels are reused or recycled. This can be partially attributed to the reduced material usage in the bathroom and the fact that the materials used (the panels) are mainly based on wood. Fibo uses only seven-layer plywood harvested from renewable forests (FSC or PEFC certified), and the carbon is captured and retained in the material throughout the bathroom's lifetime. As a result, the carbon captured in the wood will only be released if the wall panels are not recycled or reused.
The report clearly concludes that Fibo's waterproof wall panels can lower the carbon footprint by up to 45% compared to a tile installation for a bathroom.
So, what does this mean for you? Whether you are a property developer, offering social housing, a bathroom installer, or a consumer, it's great news! When you choose Fibo wall panels, whether for a new development or a renovation project, you can be confident that you are choosing the more environmentally friendly option, reducing your carbon footprint, and caring for the environment.
How to access the report
Contact Sven Konrad (sko@fibosystem.com), Customer Service and Sales Export, for a copy of the climate report: