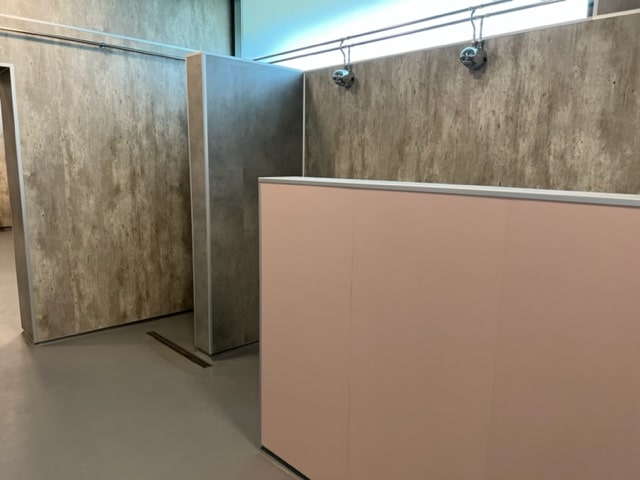 A shower pupils want to take!
A swimming pool changing room renovation with Fibo on the walls
---
Trørøds school's swimming pool is now enticing students into the water again following a short closure during the 2022 summer holidays, when both the changing rooms and bathrooms were renovated. Fibo wall panels – a sustainable alternative to tiles, was chosen for the walls and delivered via Danish wholesaler A. Rindom A/S.
Claus Madsen, Sports Director for Rudersdal Municipality, reported that prior to renovation, swimmers had started to skip showering and went straight into the pool because the changing rooms were clammy and uninviting.
Nobody bothered to shower anymore because nobody wanted to be there, so I thought we had to try to make this a cool place to be.

Sports Director, Claus Madsen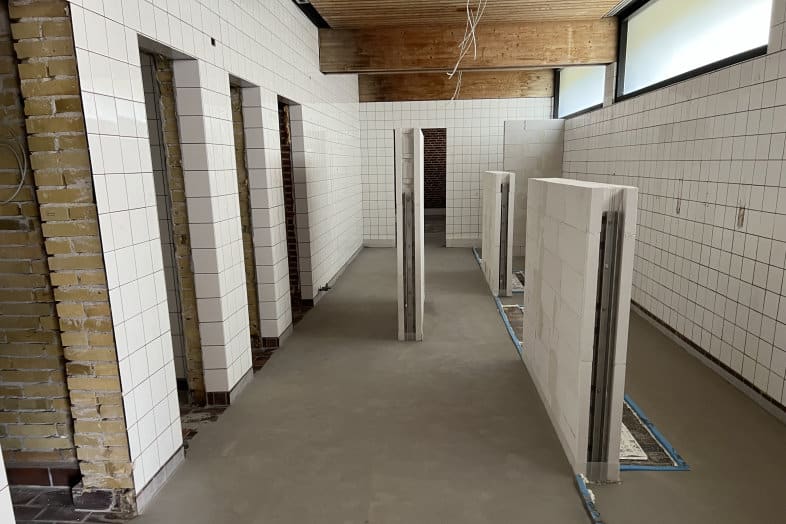 The idea of using Fibo wall panels instead of traditional tiles was proposed by Lars Warm, Master Architect & Building Consultant from the Danish Swimming Pool Advisory (DASRA), who focus on delivery of large swimming pool projects nationwide.
I like to embrace innovative solutions, so when our advisor from DASRA introduced Fibo, and showed us pictures from a project in North Jutland using Fibo, I realised that was the perfect solution for us.

Sports Director, Claus Madsen
"We decided to go for Fibo in four different colours. In the changing rooms we have gone for a contemporary look using light colours. We also installed a music system. The upgrades have had the desired effect as the changing rooms are now seen by the pupils as a nice place to sit and hang out." says Claus Madsen
Financial benefits of Fibo wall system – half the price of tiles
The financial benefits of Fibo were also part of Rudersdal Municipality's considerations. Fibo is both faster and less expensive that installing tiles. In addition, maintenance and cleaning of Fibo panels is easier. "Trørød is an old school with large changing rooms and toilet facilities, so if we had of gone for tiles it would have been very expensive. This solution is almost half the price for us. At the same time, we also take advantage of the operational cost savings as Fibo panels are easier to keep clean. We have added a robot for cleaning too, further maximizing savings," says Rudersdal Municipality's Sports Director.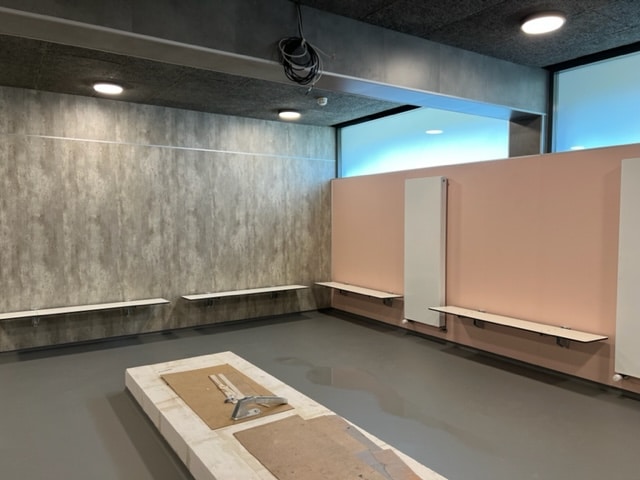 Fibo – designed for wet rooms
Building Consultant, Lars Warm from DASRA had no doubts about recommending wet room wall panels, especially because of the quality and the many possibilities with the visual expression.
They are designed to be in wet rooms, and there are so many options in colour and expression that everyone can find something they like.

Building Consultant, Lars Warm
"We have long been looking for a solid alternative to tiles for the construction of swimming pool areas, and Fibo is the product we will recommend in the future.
"We played with colours and combinations and settled on Cracked Cement décor on several walls, combined with an extra matt Pale Pink in the girls changing room area and a high gloss Aquamarine in the boy's changing area," concludes Warm.
"It is our experience that the more appealing it is to enter a room, the more it is taken care of – not only by those who are responsible for cleaning, but also by those pupils who use the facilities," says district manager Peter Roschmann at Danish wholesalers A. Rindom."
The panels are easy to keep clean because they have a smooth and even surface, whereas tiles have joints and grout that require strong cleaning chemicals to clean them.

Peter Roschmann, District Manager, A Rindom
Delivering sustainable projects with Fibo
"Our panels do the same job as tiles, and this has been an exciting and sustainable renovation project, where a lot of time and money has been saved," comments Peter Roschmann. "This is a Norwegian product with low CO2" explains Roschmann. The panels are made from sustainable plywood and are certified according to both FSC (Forest Stewardship Council) and PEFC (Programme for the Endorsement of Forest Certification).