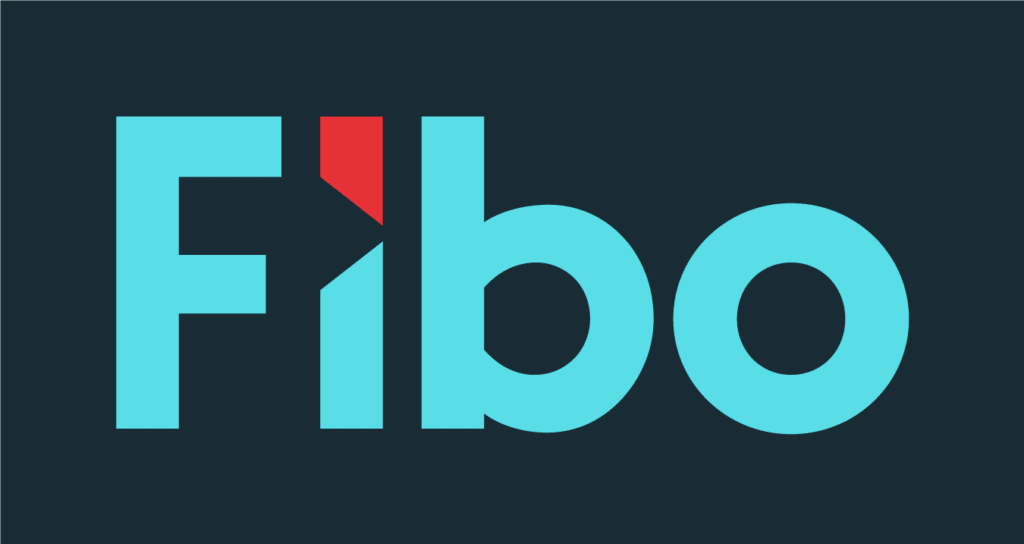 Product information news. Changes effective from 01.10.2022
---
At Fibo we are always looking to stay on top of the latest trends in bathroom design.
We see that black is very much back in fashion. Black showers, black shower doors, black mixer taps, black towel radiators, black thermostats, black lighting fixtures…. you get it, black is back!
On 1st October, Fibo is introducing our new black profiles and a black sealant so all the amazing tradespersons installing Fibo can match the black fixtures with our profiles and sealant – as always, custom engineered for Fibo panels.
Not only do we work hard to stay on top of the latest trends, but we are continuously looking for ways to simplify installation. One area we noticed we could tweak was our base profile. We have increased the distance between the panel and the base profile by approx. 1/16″ – which will make assembling Fibo even smoother than it is today.
The improvements don't stop there. We have adjusted the formula of our existing grey and white sealants. The result is two "new" sealants which are even easier to apply and colours that match more closely that of our own profiles.
In our October update, some items will receive new article numbers while others will be discontinued – most notably our "Dark Anthracite" profiles will be removed. For a full overview of the changes see the tables below.
New Items!
| Article number | Product name | Collection |
| --- | --- | --- |
| | Accessories | |
| 166300-E | Base profile Alu. Profiles | Alu. Profiles |
| 166310-E | Base profile Black Alu. | Profiles Black |
| | Seal | |
| 400610 | Fibo Seal Grey | Accessories |
| 400611 | Fibo Seal White | Accessories |
| 400612 | Fibo Seal Black | Accessories |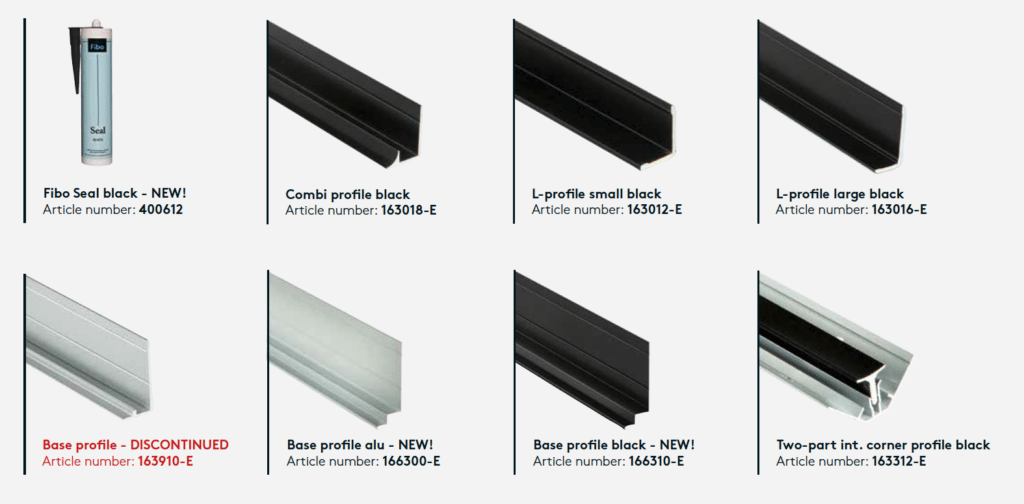 New Article Numbers
| Previous article number | Description | New article number | D-Pak (PAC) |
| --- | --- | --- | --- |
| | Wall Panel | | |
| 840110 | Wall panel 110 S White Silk (E) | 410110 | 7039490507242 |
| 840145 | Wall panel 0145 S Soft Cement (E) | 410145 | 7039490513731 |
| 840172 | Wall panel 172 S Polar Grey (E) | 410172 | 7039490507273 |
| 840192 | Wall panel 192 S Titan (E) | 410192 | 7039490507280 |
| 842442 | Wall panel 2442 S Meton Grey (E) | 412442 | 7039490522146 |
| 845746 | Wall panel 5746 S Grey Sand (E) | 415746 | 7039490519054 |
| 410164-E | Wall panel 0164 S Oak Nature (E) | 410164 | 7039490524744 |
| 410506-E | Wall panel 506 HG Toscana (E) | 410506 | 7039490507303 |
| 411035-E | Wall panel 1035 S Silver Slate (E) | 411035 | 7039490527714 |
| 413110-E | Wall panel 110 HG White High Gloss (E) | 413110 | 7039490507709 |
| 840505-E | Wall panel 505 HG Gavot (E) | 840505 | 7039490513106 |
| 840520-E | Wall panel 520 HG Ivory (E) | 840520 | 7039490513113 |
| 2035M00-E | Wall panel 2035-M00 EM Grey Slate (E) | 2035M00 | 7039490527516 |
| 2035M6060-E | Wall panel 2035-M6060 EM Grey Slate (E) | 2035M6060 | 7039490527509 |
| 2035M6080-E | Wall panel 2035-M6080 EM Grey Slate (E) | 2035M6080 | 7039490527493 |
| 2094F01-E | Wall panel 2094-F01 S White (E) | 2094F01 | 7039490512963 |
| 2094M6030-E | Wall panel 2094-M6030 S White (E) | 2094M6030 | 7039490513007 |
| 2094M6040-E | Wall panel 2094-M6040 S White (E) | 2094M6040 | 7039490515780 |
| 2094M6060-E | Wall panel 2094-M6060 S White (E) | 2094M6060 | 7039490513014 |
| 2094M71-E | Wall panel 2094-M71 S White (E) | 2094M71 | 7039490525680 |
| 2094M72-E | Wall panel 2094-M72 S White (E) | 2094M72 | 7039490525697 |
| 2094M74-E | Wall panel 2094-M74 S White (E) | 2094M74 | 7039490522269 |
| 2145M00-E | Wall panel 2145-M00 S Grey Cement (E) | 2145M00 | 7039490513724 |
| 2145M6030-E | Wall panel 2145-M6030 S Grey Cement (E) | 2145M6030 | 7039490513717 |
| 2145M6060-E | Wall panel 2145-M6060 S Grey Cement (E) | 2145M6060 | 7039490513700 |
| 2204F00-E | Wall panel 2204-F00 S Cracked Cement (E) | 2204F00 | 7039490504715 |
| 2204M63-E | Wall panel 2204-M63 S Cracked Cement (E) | 2204M63 | 7039490504753 |
| 2204M66-E | Wall panel 2204-M66 S Cracked Cement (E) | 2204M66 | 7039490504760 |
| 2487M00-E | Wall panel 2487-M00 S Bianco Marble (E) | 2487M00 | 7039490526410 |
| 2487M6060-E | Wall panel 2487-M6060 S Bianco Marble (E) | 2487M6060 | 7039490526427 |
| 2487M6080-E | Wall panel 2487-M6080 S Bianco Marble (E) | 2487M6080 | 7039490526434 |
| 2272M00-E | Wall panel 2272-M00 S Black Marble (E) | 2272M00 | 7039490516275 |
| 2272M6060-E | Wall panel 2272-M6060 S Black Marble (E) | 2272M6060 | 7039490516282 |
| 2273M00-E | Wall panel 2273-M00 S White Marble (E) | 2273M00 | 7039490516244 |
| 2273M6060-E | Wall panel 2273-M6060 S White Marble (E) | 2273M6060 | 7039490516299 |
| 2279M00-E | Wall panel 2279-M00 S Silver Grey Marble (E) | 2279M00 | 7039490516251 |
| 2279M6060-E | Wall panel 2279-M6060 S Silver Grey Marble (E) | 2279M6060 | 7039490516305 |
| 2898F00-E | Wall panel 2898-F00 RU Shabby Chic (E) | 2898F00 | 7039490505521 |
| 2898M63-E | Wall panel 2898-M63 RU Shabby Chic (E) | 2898M63 | 7039490505552 |
| 3091F01-E | Wall panel 3091-F01 HG Denver White (E) | 3091F01 | 7039490505590 |
| 3091F05-E | Wall panel 3091-F05 HG Denver White (E) | 3091F05 | 7039490505613 |
| 3091F23-E | Wall panel 3091-F23 HG Denver White (E) | 3091F23 | 7039490505651 |
| 3091F24-E | Wall panel 3091-F24 HG Denver White (E) | 3091F24 | 7039490505668 |
| 3091F25-E | Wall panel 3091-F25 HG Denver White (E) | 3091F25 | 7039490505675 |
| 3091M6040-E | Wall panel 3091-M6040 HG Denver White (E) | 3091M6040 | 7039490505903 |
| 3091M63-E | Wall panel 3091-M63 HG Denver White (E) | 3091M63 | 7039490505910 |
| 3091M66-E | Wall panel 3091-M66 HG Denver White (E) | 3091M66 | 7039490505927 |
| 3487M00-E | Wall panel 3487-M00 HG Bright Marble (E) | 3487M00 | 7039490526441 |
| 3487M6060-E | Wall panel 3487-M6060 HG Bright Marble (E) | 3487M6060 | 7039490526458 |
| 3487M6080-E | Wall panel 3487-M6080 HG Bright Marble (E) | 3487M6080 | 7039490526465 |
| 4943F00-E | Wall panel 4943-F00 EM Grey Concrete (E) | 4943F00 | 7039490508690 |
| 4943M63-E | Wall panel 4943-M63 EM Grey Concrete (E) | 4943M63 | 7039490508713 |
| 2126M00-E | Wall panel 2126-M00 S Dark Soot (E) | 2126M00 | 7039490522160 |
| 8053M00-E | Wall panel 8053-M00 STN Lentini Grey (E) | 8053M00 | 7039490509529 |
| 5200M00-E | Wall panel 5200-M00 EM Warm Grey (E) | 5200M00 | 7039490516527 |
| 6274M00-E | Wall panel 6274-M00 EM Dusty Blue (E) | 6274M00 | 7039490519221 |
| 4746M6040-E | Wall panel 4746-M6040 STN Grey Sahara (E) | 4746M6040 | 7039490508560 |
| 8056M00-E | Wall panel 8056-M00 STN Lentini Dark (E) | 8056M00 | 7039490509598 |
| 0090M00-E | Wall panel 0090-M00 EM Svalbard (E) | 0090M00 | 7039490500212 |
| 5206M00-E | Wall panel 5206-M00 EM Olivegreen (E) | 5206M00 | 7039490516510 |
| | Kitchen Board | | |
| 3091K03-E | Kitchen Board 3091-K03 HG Denver White (E) | 3091K03 | 7039490505705 |
| 2204K00-E | Kitchen Board 2204-K00 S Cracked Cement (E) | 2204K00 | 7039490504722 |
| 2273KM00-E | Kitchen Board 2273-KM00 S White Marble (E) | 2273KM00 | 7039490516213 |
Discontinued Items
| | Article number | Measurements (depth, width, height) |
| --- | --- | --- |
| Wall Panel | | |
| 0433-M00 EM Reykjavik | 0433M00 | 0 ⁷/₁₆ x 24 x 94 inch |
| 0433-M0303 EM Reykjavik | 0433M0303 | 0 ⁷/₁₆ x 24 x 94 inch |
| 0433-M10 EM Reykjavik | 0433M10 | 0 ⁷/₁₆ x 24 x 94 inch |
| 0433-M3005 EM Reykjavik | 0433M3005 | 0 ⁷/₁₆ x 24 x 94 inch |
| 0433-M6015 EM Reykjavik | 0433M6015 | 0 ⁷/₁₆ x 24 x 94 inch |
| 0433-M6020 EM Reykjavik | 0433M6020 | 0 ⁷/₁₆ x 24 x 94 inch |
| 0433-M6030 EM Reykjavik | 0433M6030 | 0 ⁷/₁₆ x 24 x 94 inch |
| 0433-M6040 EM Reykjavik | 0433M6040 | 0 ⁷/₁₆ x 24 x 94 inch |
| 0433-M6060 EM Reykjavik | 0433M6060 | 0 ⁷/₁₆ x 24 x 94 inch |
| 840505 Gavot | 505 HG Gavot | 0 ⁷/₁₆ x 24 x 94 inch |
| Kitchen Board | | |
| 0433-KM3010 EM Reykjavik | 0433KM3010 | 11 x 24 x 18 inch |
| 0433-M3010 EM Reykjavik | 0433M3010 | 0 ⁷/₁₆ x 24 x 94 inch |
| Accessories | | |
| Base profile alu 2400mm | 163910-E | 94 inch |
| Combi profile, Dark Anthracite | 163904 | 94 inch |
| External corner profile, Dark Anthracite 2400 mm | 163919 | 94 inch |
| Internal corner profile two parts, Dark Anthracite 2400 mm | 163130-E | 94 inch |
| L-profile small, Dark Anthracite 2400 mm | 163943-E | 94 inch |
| L-profil large, Dark Anthracite 2400 mm | 163949-E | 94 inch |
| L-profile small, Dark Anthracite 580 mm | 102290 | 18 7/64 inch |
| Fibo Seal Dark Anthracite | 400593 | 290 ml |
| Fibo Seal Grey | 400591 | 290ml |
| Fibo Seal White | 400590 | 290ml |